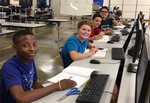 Computer Science in CCPS
CCPS Expands Computer Science Opportunities for Students
The Christian County Public School System is one of 33 school districts in Kentucky to provide students with expanded computer science learning opportunities.
In a recent news release sent by the Kentucky Department of Education, Commissioner Stephen Pruitt states that the United States currently has more than 494,000 unfilled computing jobs, but only 43,000 computer science graduates fill those jobs. "By creating more opportunities for computer science learning, we will reach, keep and engage more students in learning, create a pool of more qualified people to fill existing job openings, and stimulate suppressed economic regions of our state by developing a high-tech, skilled workforce," says Pruitt.
Christian County's participation in the state's computer science initiative required a written plan by CCPS. The submitted plan described ways the district would develop and implement a sustaining computer science program beyond the initial implementation year that reaches more students and offers additional opportunities for students to explore computer science.
Goals for the computer science initiative will include:
· establishing a continuum of computer science education and student competencies from elementary to high school;
· providing more opportunities for computer science learning for ALL students- especially students typically under-represented in rigorous high school courses- to engage in advanced coursework that will prepare them for future success; and
· preparing students to address a critical workforce need related to computer science knowledge and skills.
Code.org is a partner in the computer science initiative. Cameron Wilson, Chief Operation Officer for Code.org says, the initiative will introduce an awareness of computer science at the elementary level, exploration of computer science in the middle school and afford more students to take Advanced Placement Computer Science Principles at the high school level.
The district currently offers Information Technology as a career pathway for students. Students in the IT pathway can choose to take courses such as video game design, help-desk services, and computer science. Additionally, dual-credit, as well as the Advanced Placement (AP) Computer Science courses are available.
*For KDE's full press release, please see link to the right >>>>>>>>